Help us improve animal welfare around the world!
Veterinarians without borders – Sweden is working to improve the welfare of animals and people, by supporting veterinary projects around the world. These projects aim to prevent diseases, educate people and reduce conflicts between wildlife and humans.
ABOUT US
Veterinarians without borders – Sweden (VSF-Sweden) is a neutral, non-partisan organization supporting veterinary organizations around the world. Our ambition is to support activities aligned with the One Health-One Welfare initiative – an initiative that aims to improve the health and welfare of both animals and people, as well as their environment. These three are all interlinked, as healthy animals are a necessity for human wellbeing, and animals with improved welfare create less environmental impact.
VSF-Sweden was founded in 2011, and since 2018 we are members of the international network VSF International. VSF-Sweden are supported by individuals, veterinary clinics, and other companies and organizations.
HOW TO SUPPORT US
Become a member! We welcome anyone with an interest in global animal health and welfare as a member, regardless of education or occupation. By becoming a member you will regularly receive updates of our activities in our newsletter .
If you wish to make a donation to VSF-Sweden, either:
–  Transfer a chosen amount to the Swedish Bankgiro 695-9803 or
–  Make your transfer with "Swish" to number 123480398, or using the QR-code below.
You are welcome to contact our treasurer at kassor@vsf-sverige.org with any questions regarding donations or memberships.
Would you like to donate veterinary pharmaceuticals or materials? Please contact materialansvarig@vsf-sverige.org.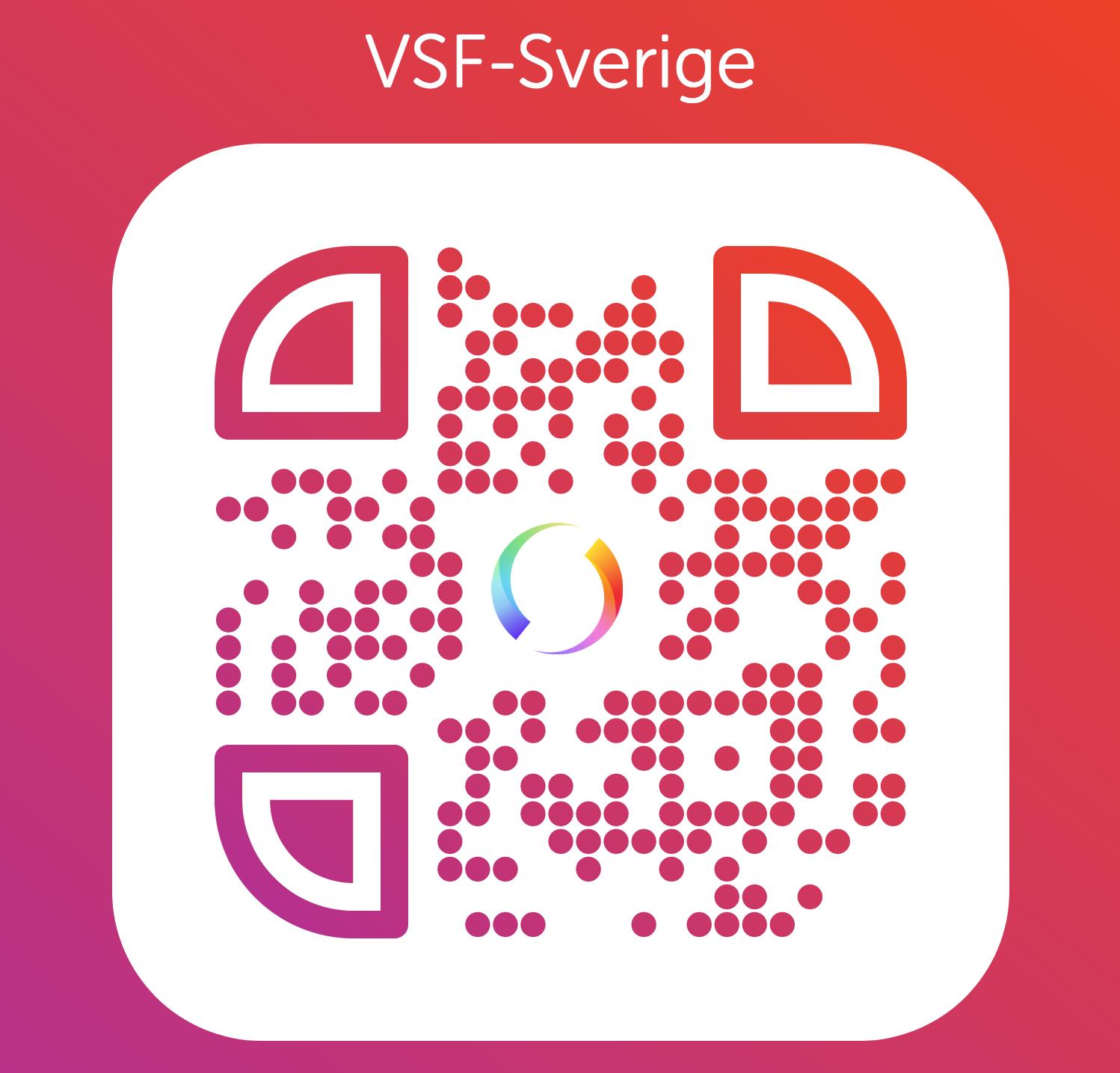 OUR AIMS AND PROJECTS
VSF-Sweden supports different projects that aim to improve the health and welfare of animals and people around the world. Our main focus areas are:
Animal Welfare
Ensuring good animal welfare is a cornerstone to maintain and improve the health of not only animals but also humans. In addition, animals in a good state of welfare place less burden on the environment.
Rabies prevention
Rabies is a viral disease that can infect and cause disease in both humans and animals. Every year, almost 60 000 people die from rabies, the majority of whom are children living in developing countries. Most human cases result from dog bites, and therefore, vaccinating dogs for rabies is one of the most cost-efficient measures to reduce disease burden. Educating people about the disease, how it can be prevented and how to act around dogs to minimize the risk for bites, is also important.
Education and hygiene
Education empowers people and gives them the tools necessary to transform their lives. Education is therefore a cornerstone in sustainable development.
Wildlife-human conflict
As human populations are constantly expanding their living territories, wildlife becomes trapped in smaller and smaller pockets of nature. Humans and wildlife start competing for resources, which leads to severe, sometimes fatal conflicts. Providing resources and knowledge to people living in proximity to wildlife that enable them to peacefully reduce these conflicts, are vital measures for wildlife conservation.
Our projects
See below for organizations that VSF-Sweden is working with. For more information, please contact us at info@vsf-sverige.org.
Meru Animal Welfare Organization (MAWO)
MAWO in Arusha, Tanzania, organizes vaccination- and castration-campaigns, educates people on animal care, and runs a mobile dog clinic that offers veterinary care to animals that otherwise would not receive such aid. The organization conducts so called "boma to boma" campaigns, where they move between settlements, huts and houses to register and vaccinate the dogs that are present against rabies. MAWO also educates children about rabies and the importance of dog welfare, to teach them how to act around dogs in order to reduce their risk of contracting the disease.
In response to the severe drought that recently hit eastern Africa, MAWO are also providing water troughs, supplementary feed, minerals and vitamins to livestock. These measures do not only reduce animal suffering, but will also minimize the impact on the livelihoods of Tanzanian farmers who are already affected by poor harvest returns.
Lilongwe Society for the Protection and Care of Animals (LSPCA)
LSPCA in Lilongwe, Malawi, are working to improve animal health and welfare. VSF-Sweden support their work aimed to reduce the roadside trade of animals in and around the capital Lilongwe. Roadside trade is a major source of animal suffering, and it increases the risks for spread of rabies and other diseases.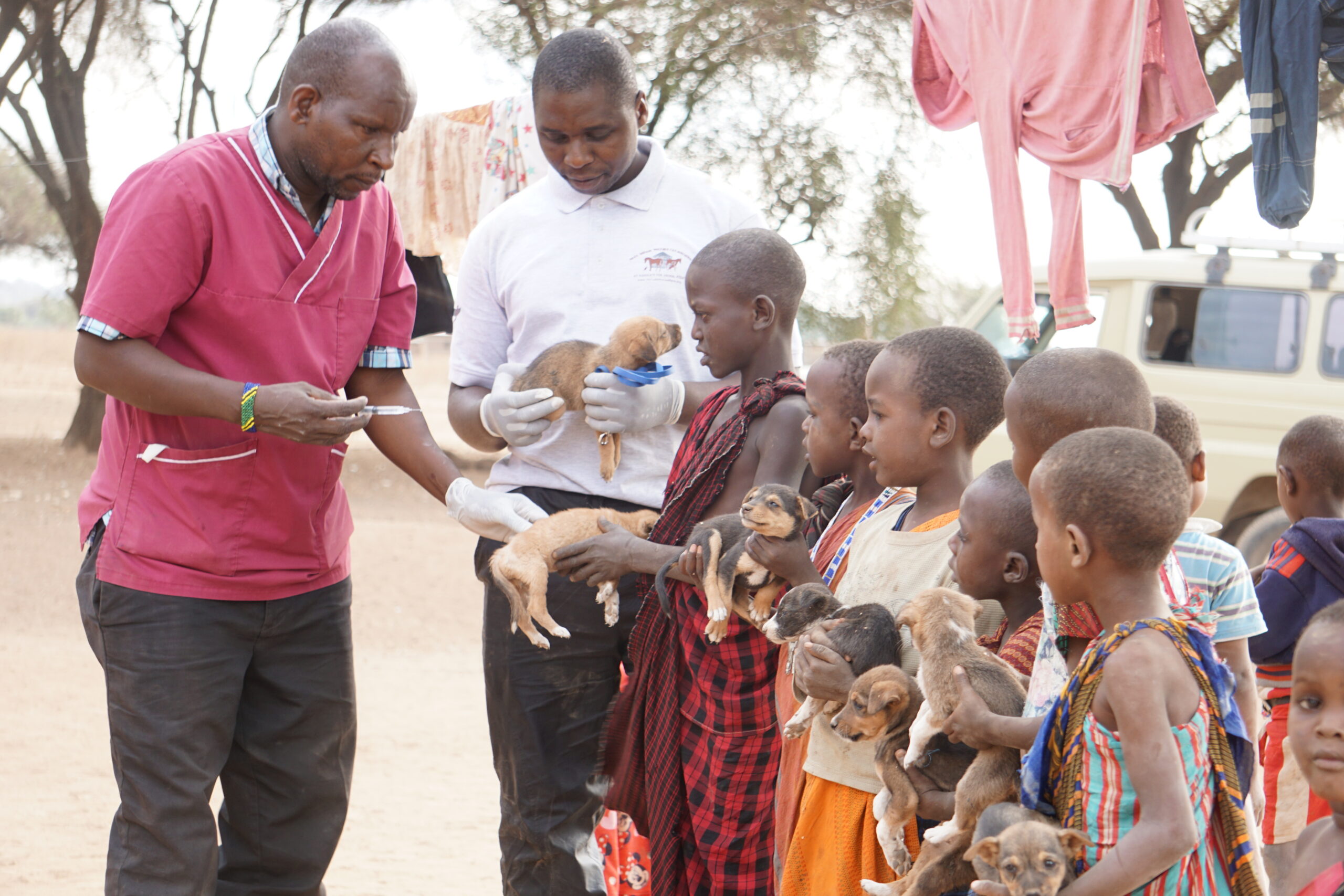 Zambezi Animal Welfare Services (ZAWS)
ZAWS in Zambia runs a rehabilitation center that cares for and rehomes dogs and cats. ZAWS also conducts castration and vaccination campaigns, and provides veterinary care to strays and animals whose owners lack monetary assets for such care. They have also taken measures to improve the situation for donkeys in the area.
Model Livestock Advancement Foundation (MLAF)
Goats play multiple important roles in livelihood security, especially in low-income countries, and for marginalized members in society, such as women.  MLAF conducts courses in goat management for poor women in Bangladesh, where the women are taught about goat nutrition, diseases and preventive measures such as the administration of vaccinations and anthelmintic drugs. All women who pass the final exam receive a goat. Hence, these courses not only contribute to improved goat welfare, they also offer women means to support themselves and their family, and strengthens women's position in society.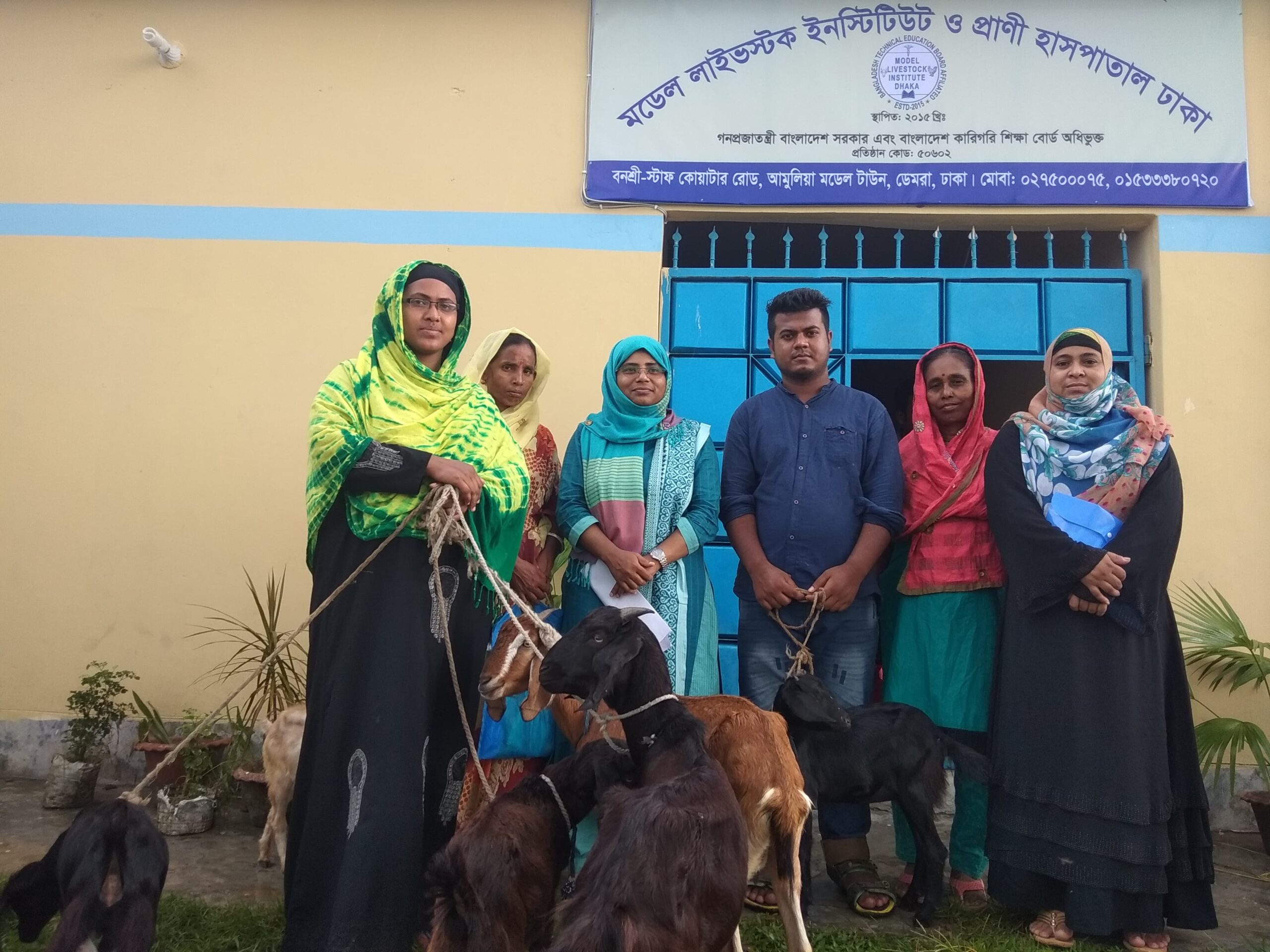 Tembo-pilipili – RESOLVE
Conflicts between wild elephants and humans are occuring more and more frequently, especially in villages situated in the vicinity of national parks. As the elephants are foraging for food, they risk wandering into villages and unto crop fields, which can cause severe damage to property as well as human fatalities. This puts the elephants at risk for retaliatory attacks from farmers who has suffered the loss of their family members or of their property. The project Tembo-Pilipili, run by the organization RESOLVE, has taken measures to reduce conflicts between elephants and humans in Tanzania. They teach farmers to build so called chili-fences, which is a cost-efficient and relatively easy measure to keep elephants at bay. RESOLVE also organizes farmer cooperatives and educates the farmers about diseases that can affect their own animals.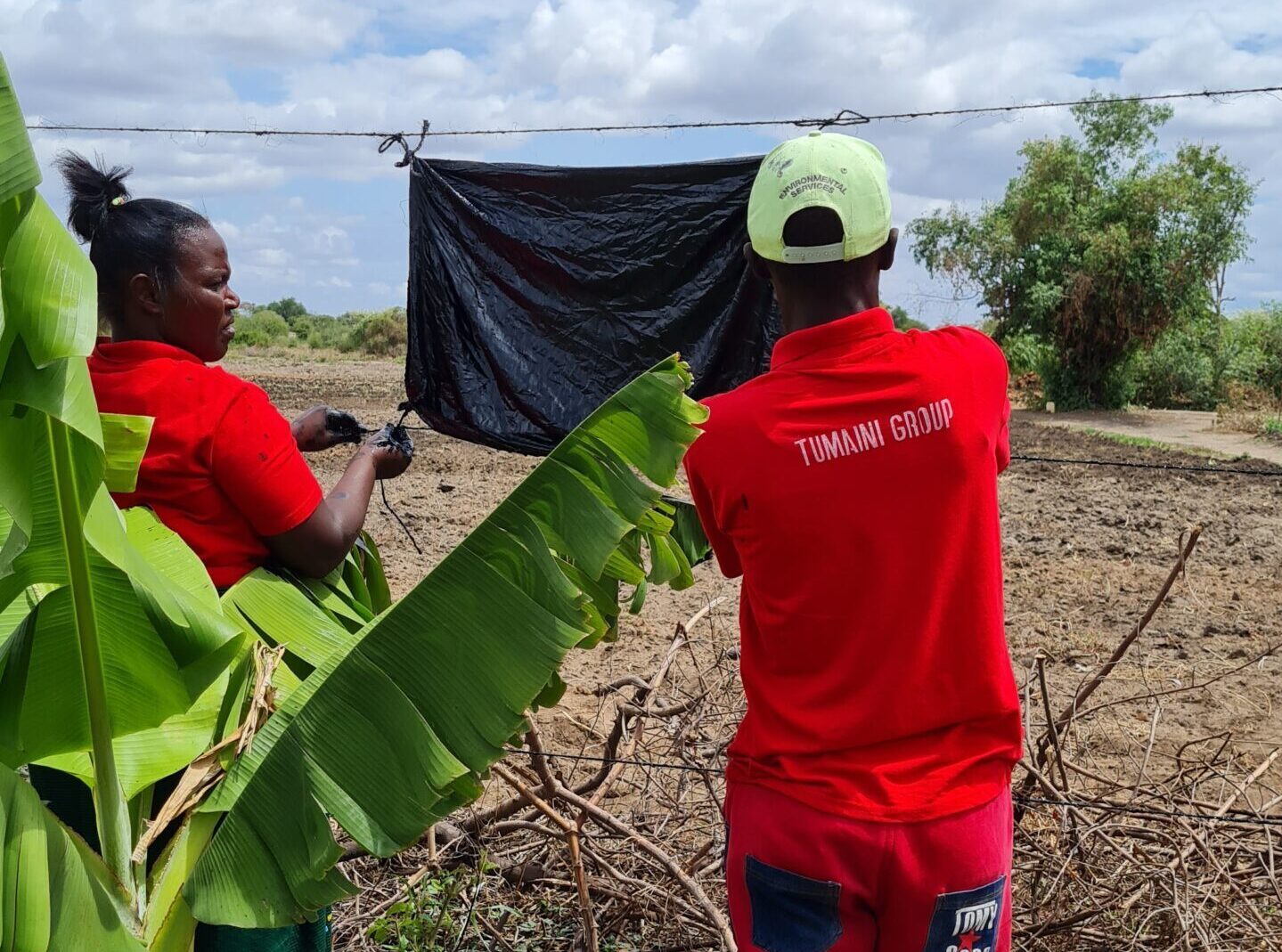 Animal Welfare Advocates Association (AWAA)
The activities of AWAA aim to improve animal welfare in Gambia, by educating people about the importance of good animal husbandry. AWAA disseminates information through village visits and radio broadcasts, and the organization has, together with Gambian singer Jaliba Kuyateh, composed a song about animal welfare. AWAA's work has also had an impact on a national level, as their work has stimulated an enforcement of animal welfare legislations in Gambia.
Zambezi Working Donkey Project  (ZWDP)
In rural Zambia, donkeys play vital roles for people's livelihoods, but because of widespread poverty and limited knowledge on donkey care, they are often suffering from malnutrition and painful injuries. VSF-Sweden has therefore worked with ZWDP in their work to improve the welfare of donkeys in the region.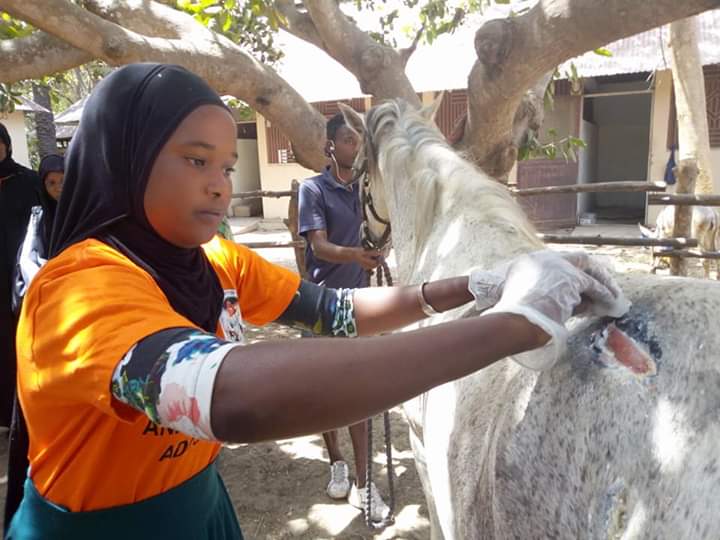 Maun Animal Welfare Services (MAWS)
MAWS in Botswana are working to improve the welfare of dogs and cats, for example by rescuing and re-homing animals in need, and through spay and neuter programmes. In addition to enhancing the animals' wellbeing, this also reduces the spread of deadly diseases such as rabies. VSF-Sweden has supported MAWS to build a new cat friendly enclosure, which has had a positive impact on the cats' welfare.
Zambian Association for Sustainable Projects (ZASP)
Agriculture is the main source of income and food in Zambia. ZASP are offering training courses for livestock farmers in eastern Zambia, including aspects such as disease prevention and biosecurity. ZASP also educate community-based animal health workers, who can have an advisory role and perform simpler veterinary procedures in areas where access to veterinary care is poor. ZASP has also constructed latrines and hygienic facilities in village schools, which improves hygiene, reduces the spread of diseases, and enables girls to stay in school also after they start menstruating. VSF – Sweden has contributed to ZASP's educational programmes regarding animals and farming, and the work of building the latrines and hygienic facilities.